The 38th World Congress of Institut International de Sociologie
    The Official Website is here.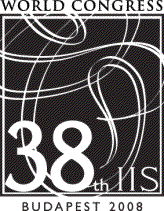 Regular Session:
Archives, Accountability, and Democracy in the Digital Age
June 28 Sat. 2008 14:00-15:30 F908
Convener: Keiji FUJIYOSHI, Associate Professor, Koyasan University, Wakayama, Japan
Abstract(long version):
   The main purpose of this session is to discuss what it means for a society to have its own archives, and to exchange information about the situation in each country or area regarding the relation between a society and its archives. Below is the background of this session.
  It seems to be one of the characteristic trends of modern times to record activities of governments and corporations, and set archives as storage of records and documents produced and classified. Thus, it could be said that the state of archives in a society is regarded as one criterion of the state of democracy in the society. But in practice, role and effect of arichives vary in societies because of its characteristics as following:
1) Dilemma between democratic or corporate governance and discretion for efficiency.
2) Reflexivity between record/archive and social action or social relationship. While record/archive is done for describing corporate and governmental activities, people come to keep in mind that their action is being recorded, which affects their behaviour in business.
3) Information technology. The development of information technology together with the Internet has made it possible to provide citizens, i.e. stakeholders of the government, with easy access to records and archives that the government has produced and accumulated on business. It has the potential to transform the relationship between citizens and their government. 
  In this context this session will focus on the role of archives in democratic societies, especially in this digital age. This involves the information about archives in particular countries. This session will provide the floor with a chance to exchange information and opinions about 'Archives and Democratic Society'.
  We will present, as Chair, some information about these issues regarding archives:
1) Some problems in Japan related to records and documents which prove the procedure of decision and execution of the government legally authorized
2) The situation where archives are presently set in Japan
3) Australian Example: VERS: Victorian Electronic Records Strategy of PROV: Public Record Office Victoria, Australia, which, we believe, is to be regarded as one of the respectable solutions for ensuring accountability of the government in the digital age.
   Presentations shall be welcomed that are to provide some information about the present conditions of archives in your society.